ML Traffic Engineers provides traffic engineering, traffic impact and parking impact assessment reports to assist with planning applications, often referred to simply as a traffic report, traffic study, engineering assessment by a suitably qualified traffic engineer or traffic management report to address site specific operational and/or safety concerns. We review and provide design input on access, car parking and site servicing layouts as per AS2890.1 and AS2890.2 requirements. We prepare Green Travel Plans to set frameworks in place to achieve targeted shifts to non-car based modes of transport over time.
Specifics of our services are presented below. Click on the sub-menu for more information regarding the range of land uses covered, significant projects and client samples.
Parking layout design based on local government statutory requirements and/or AS290.1:2004.
Site servicing layout design based on local government statutory requirements and/or AS2890.2:2002 and the dimensions of the nominated waste management contractor's truck.
Computer aided design and optimisation of car parks.
Mechanical stacker functional layout plans.
Vehicle swept path assessments and compliance advice using AutoTURN.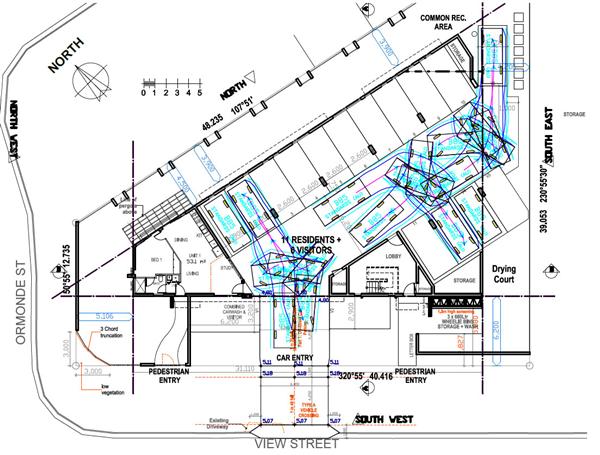 .

Ground clearance diagrams.
Traffic data collection - traffic volumes, parking beats, vehicle gaps and vehicle speeds.
Parking shortfall assessments based on parking beat survey findings, shared use of off-site spaces over time, short and long term duration of stay (turnover) and accessibility to public transport services.
Intersection performance assessment using SIDRA.
Intersection performance assessment using gap analyses, at sites where traditional 'black-box' analyses do not accurately reflect site conditions.
Traffic control plans and traffic management plans for roadworks and events.
Parking management plans.
Signage and line-marking plans.
Traffic signal plans.
Street lighting modelling and plans.
Green travel plans - an increasingly common requirement for inner city municipalities where the parking impact exceeds a certain threshold.
OHS site traffic management audits and recommendations.
Main road site access feasibility assessments.
Intersection functional layout plans as per Austroads Guide to Road Design Part 4A.
Expert witness representation at planning tribunal hearings - VCAT, WA, SAT, SA ERD, NSW L and E Court and Queensland P and E Court.
RPEQ traffic engineering reports.